Branding Guidelines
Acknowledgement of RPOSD Grant Funding
Acknowledgment of grant funding awarded by the Los Angeles County Regional Park and Open Space District (RPOSD) is an opportunity to highlight the use of taxpayer dollars and the support of Los Angeles County voters, who recognize the invaluable benefits and contributions of parks and open spaces for the community and park-goers.
All projects and programs that receive funding from the District are required to acknowledge our support by utilizing RPOSD's brand elements.  RPOSD's logo is to be used for all project and program activities and public communications to acknowledge RPOSD's assistance.  Grantees must comply with the branding policy and the guidelines on our Branding Guidelines webpage.
Acknowledgment Requirement
The branding guidelines on this page and the RPOSD Branding policy in the Grants Administration Manual (GAM) should facilitate the use of our logos and brand elements for all partnership purposes. Understanding the RPOSD Branding Policy is an integral component of our grant agreements.
All Projects and Programs
All grant projects and programs, including without limitation, capital, acquisition-only, programmatic, planning & design, and innovation projects funded by RPOSD, must acknowledge our funding assistance.­­­­­­­­ Grantees are required to acknowledge RPOSD's assistance by recognizing RPOSD at project-related events, printed and promotional materials, and social media posts.
There are additional funding acknowledgment requirements for capital and acquisition-only projects.
Capital and Acquisition-Only Projects
All capital and acquisition-only projects funded by Measure A are required to post a stand-alone sign at the project site in perpetuity.
Approval Process
The Grantee is required to seek approval from their Grants Officer before production of promotional materials or signage for each project.
Complete policy details can be found in the Measure A GAM, Section 1.9 Branding Policy. Please feel free to contact your Grants Officer or email us at info@rposd.lacounty.gov should you have any questions or concerns regarding the use of RPOSD materials, including those not listed within this page.
Official Logo
 To acknowledge taxpayers' assistance, grantees are required to display RPOSD's logo, in a manner most appropriate to the type of project or program funded. To help better serve this purpose, we have made our logo readily available for download and use on this page. Monochrome versions of the logo can also be used for instances where its application would be more appropriate. There are three iterations of the RPOSD logo reflective of our brand identity and appropriate for funding acknowledgment. The composition of all iterations consist of the same imaged icon, varying in scale and/or positioning in relation to the name, if included.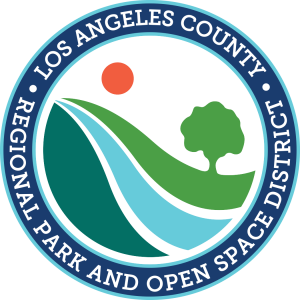 Seal
The seal iteration of our logo is the most comprehensive and compact reflection of our visual brand and identity with a more formal nod to being a government entity.
Stacked
This logo displays the name of our organization in a stacked format with consideration to limited spacing in width.

Horizontal
This logo displays the name of our organization in a horizontal format with consideration to limited spacing in height.
The RPOSD logo represents our commitment to serving as stewards of parklands through funding projects and programs to build healthy and resilient communities. The unique typographical treatment of our name reflects a welcoming nostalgia as well as conveys a strong, professional look. The simplistic design and imagery, of various aspects of nature with a vanishing point, creates a sense of openness and adventure that RPOSD aims to achieve for Los Angeles County. RPOSD is a government entity with its primary focus on advocating for quality parks and open space for the public.
Color Guide
Our colors are bold, harmonious, and fresh. If the usage of the RPOSD brand cannot meet the color specifications, it is recommended that the logo and icons are used in black and white only.
Light Blue
Pantone: 3105
CMYK: C=54 M=0 Y=14 K=0
RGB: R=102 G=203 B=218
Hexadecimal: 66CBDA
Light Green
Pantone: 362
CMYK: C=74 M=15 Y=100 K=2
RGB: R=75 G=159 B=70
Hexadecimal: 4B9F46
Dark Orange
Pantone: 171
CMYK: C=0 M=79 Y=83 K=0
RGB: R=241 G=93 B=63
Hexadecimal: F15D3F
Dark Blue
Pantone: 654
CMYK: C=100 M=85 Y=30 K=16
RGB: R=26 G=60 B=110
Hexadecimal: 1A3C6E
Dark Green
Pantone: 562
CMYK: C=95 M=34 Y=64 K=19
RGB: R=3 G=111 B=100
Hexadecimal: 036F64
Quick Response (QR) Code
We encourage grantees to use the RPOSD QR code on signage when fulfilling the funding acknowledgement requirement, although using this element is not a requisite. A QR Code is a machine scannable image that can be instantly read using a Smartphone camera. The RPOSD QR code links individuals to the About the Regional Park and Open Space District page (URL: https://rposd.lacounty.gov/district).
Need this image file?
1. Click Here to open in PNG file format on a new window
2. Right-click on the image then select to 'Save Image as…'
Social Media
Let us all work together to engage our communities with exciting park developments and open space initiatives across Los Angeles County! Please tag us when promoting or raising awareness of your RPOSD-funded project or program on social media platforms. RPOSD's handle (@RPOSD) is associated with the following social media accounts:
# Approved and relevant hashtags include: #RPOSD, #WeAllNeedParks, #ParksMakeLifeBetter, #ParkEquity, #OpenSpace, #OpenSpaceDistrict, #LACountyTrails, #CommunityEngagement, #MeasureADollarsAtWork, #LosAngelesCounty, #ThisIsLACounty, #CountyofLA, #LACountyParks
Other RPOSD Brand Elements
Additional graphic icons, including the logos for Measure A and Proposition A, have been created by RPOSD to visually identify and differentiate the multiple aspects of our grant-making business, such as assessments, funding categories, and grant programs. Permission is required prior to the use of these icons by parties outside of RPOSD and icon files will be available once permission is granted. Terms of appropriate use, restrictions, and approval for our official logo also apply to our icons.  The usage of any of these icons is not the equivalent of applying our official logo to fulfill a grant agreement requirement.
Disclaimer
The files on this page are available for our grantees' convenience with the understanding that all our logos and icons will be applied in accordance to their grant agreement in perpetuity. We reserve the right to stop any use of our logos, icons, or other visual branding, if it is not being used in an appropriate manner.